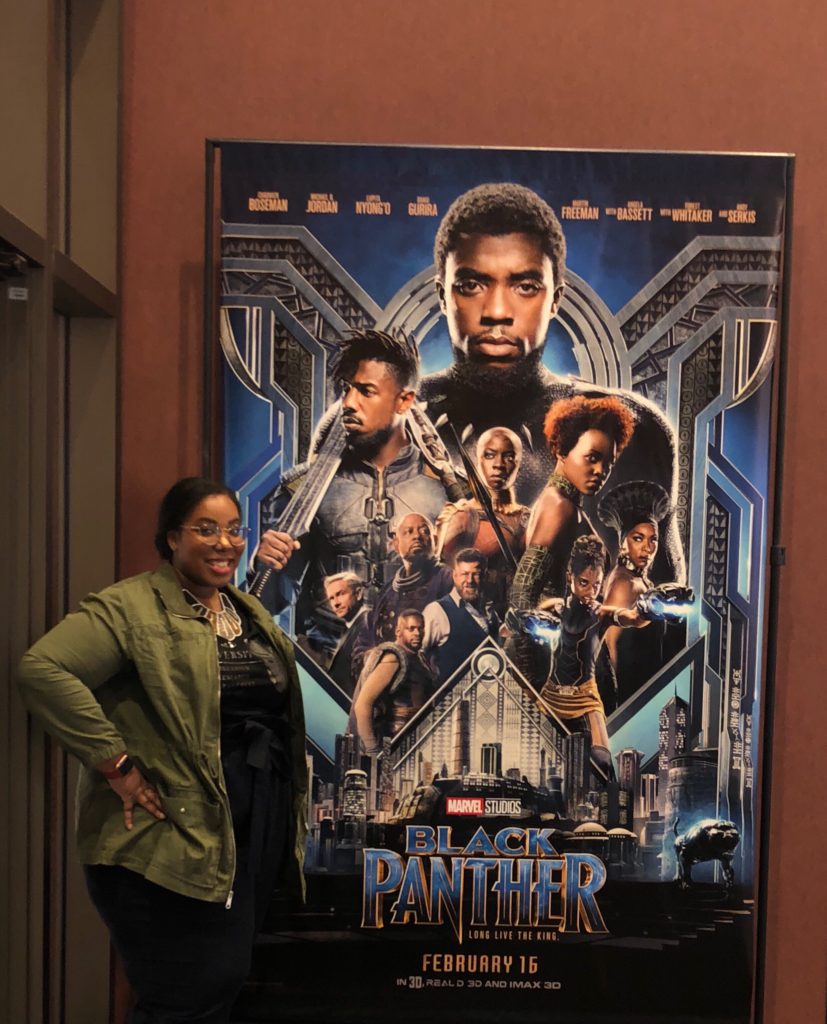 To be young, gifted, and Black.
⠀
Chadwick Boseman might not have coined the phrase by he was the epitome of it. Like many of you, I only knew him through his work but was always in awe of him. I remember the excitement that surrounded 'Black Panther'. We saw the Black Panther introduced in 'Captain America: Civil War' and it wasn't long after that that Marvel announced that T'Challa would be getting his own stand-alone film. We knew that Chadwick Boseman would be reprising his role as the leader and warrior of Wakanda, and as the other cast member names started being released the excitement grew. Angela Bassett as Queen Mother Ramonda, Forrest Whitaker as Zuri, Lupita Nyong'o as Nakia, and Michael B (Bae) Jordan as the villain Erik Killmonger. My soul screamed yes! Ryan Coogler ('Fruitvale Station' and 'Creed') was announced as the director and the Black millennial in me screamed YES!! Coogler is a really talented director and he's young! His movies so far have been really good, and I knew he'd be perfect to bring Black Panther and Wakanda to life.
Fast forward to mid-2017 when it was announced that they'd finished filming and that the film was about 4 hours long before major cuts. Honestly, at that point I would've watched a 4-hour movie. 'Titanic' was just over 3 hours and so was 'Avatar', so it's not like we'd too far off from that. But of course, cuts were made the run time was just shy of 2.5 hours. Long enough to get the story told and short enough to get us to come back night after night. Which is exactly what I did. I saw that movie three times opening weekend and another handful of times after that before it left theaters. Then once it hit Netflix and Disney+ I continued to stream it. Not only was the cast portraying heroes, but the representation was there. For the first time in forever, we were able to see a majority Black cast portraying heroes! We did the Wakanda Forever salute for years following that, in fact, I still use the 🙅🏾‍♀️ emoji to say it. Chadwick and the rest of that cast did some powerful for so many people.
In fact, bringing heroes to life was something that Chadwick had a knack for. He brought Jackie Robinson, James Brown, and Thurgood Marshall back to life on screen in '42', 'Get On Up' and 'Marshall' respectively, and reminded us that those real-life heroes were just as important as King T'Challa. Chadwick was truly a superhero, battling cancer the way he did and continuing to bring his talents to the screen in 6 movies before he passed.
He was not only a phenomenal actor who brought so many Black heroes to life, but he was just as phenomenal off-screen! Whether it was giving back to the kids or using his platform to shine a light on other heroes or important platforms, he gave back.
⠀
We will miss him, his spirit, and his talents here on earth but I know that the king is resting easy now. My heart, thoughts, and prayers go out to his loved ones.
⠀