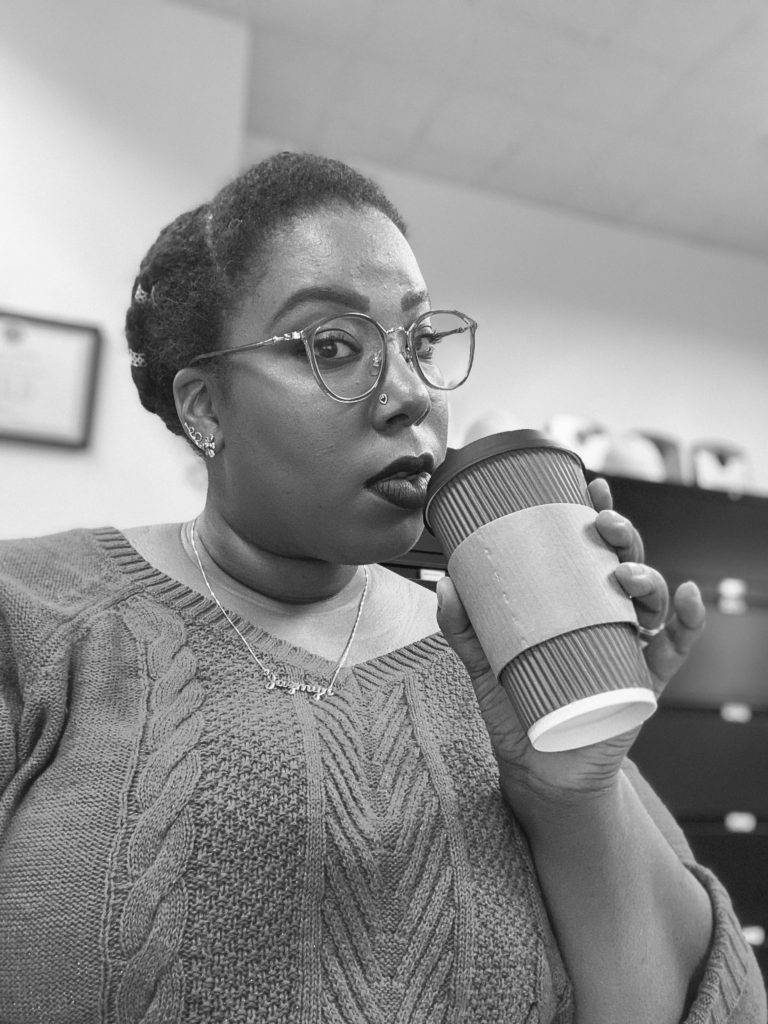 Like many of you, I woke up to so many black squares on Instagram. So many profile pictures changed to a solid black image. So many posts with #BlackoutTuesday in the caption, and like I fell in line and changed my profile picture to a solid black image and even shared something to my static feed about it.
What started off as a campaign by folks in the music industry, has turned into something greater. It went from Apple Music participating by restricting folks to only listening to one curated playlist after reading their statement on Black Lives Matter; Spotify participating and blacking out their curated playlist covers and adding a 8 minute and 46 second track of just breathing to end of them as a stance in solidarity to an entire social media campaign! I'm seeing other POC and non-POC bloggers and influencers muting themselves online and amplifying Black voices. I'm seeing everyone share ways they can fight against racism and stand up for Black lives. It's no longer enough to be non-racist. We need everyone to get their hands dirty and do the work to show they're anti-racist.
I spoke a bit about this on the podcast episode I dropped last Friday, and I'll share it again below, but Black people are tired of this shit. We're tired of screaming until we're blue in the face that our lives matter. That systemic oppression is bad. That we shouldn't still be persecuted and hated for simply existing. One of my white co-workers told me today that she's mad that we're still doing this in 2020 and I couldn't agree more. We've been fighting this fight for over 400 years here in the United States and we're tired of fighting it alone, so here are a few things we need our allies to do:
Ask yourself a few questions like –
What can you do to support the Black community? And yeah, I said BLACK COMMUNITY! Folks are afraid to use that word because they think they're going to lose friends and followers, well guess what. Oh well! That's what happens when you're doing the right thing.
What are your local politicians' policies on ending police brutality?
What are you doing to help end racial discrimination and systemic oppression?
Are you using your anti-racist knowledge and having those difficult conversations with your loved ones?
Then I suggest you put those Twitter fingers to use and –
Amplify Black voices. This one's pretty self-explanatory, but reshare and repost Black influencers and content creators on your social platforms. Often times you have an audience they don't have access to.
Text FLOYD to 55-156
Text JUSTICE to 66-8336
Text ENOUGH to 55-165
Leave a message for Louisville Mayor at 502-574-2003 and demand justice for Breonna Taylor #SayHerName
Get to moving and –
Register to vote! They just extended registration in Texas, check your state's rules and register. Then use your voice and vote in your best interests!
Check on your Black loved ones, friends, colleagues because we're not okay.
Educate yourself on being anti-racist. I said it before and I'll say it again, it's no longer enough to just be not racist. You have to ANTI-RACIST. And don't rely on your Black friends and loved ones to do the research for you.
Share resources to educate those around you and when you do make sure that you're centering your posts around yourself. That's a form of privilege.
Continue to be an ally. This protest life isn't for the weak or faint of heart. Back during the Civil Rights era they were protesting for months and up to a year. Stand strong because we (the Black community) need you. We can't fix a system that was built to oppress us.
I know this protest and marching life isn't for everyone. I get it. But there are ways you can give back without pounding the pavement:
You can sign the Justice for George Floyd, Breonna Taylor and Ahmaud Arbery petitions at change.org
You can sign the #JusticeForFloyd petition at Colors of Change
You can donate to a local or national bailout fund
You can donate to organizations that provide supplies like water and food to protesters
You can follow organizations who aren't new to this, but are true to this like:

Black Lives Matter
Color of Change
NAACP
Reclaim the Block
United We Dream
National Urban League and even your local young professional affiliate! In Houston that the Houston Area Urban League Young Professionals.
The time for change is now; you can no longer sit back in silence because your silence is seen as being complicit. Do your part and make sure that the world understands that Black Lives Matter. And while you're at it, check out the most recent episode of my podcast episode if you missed it.