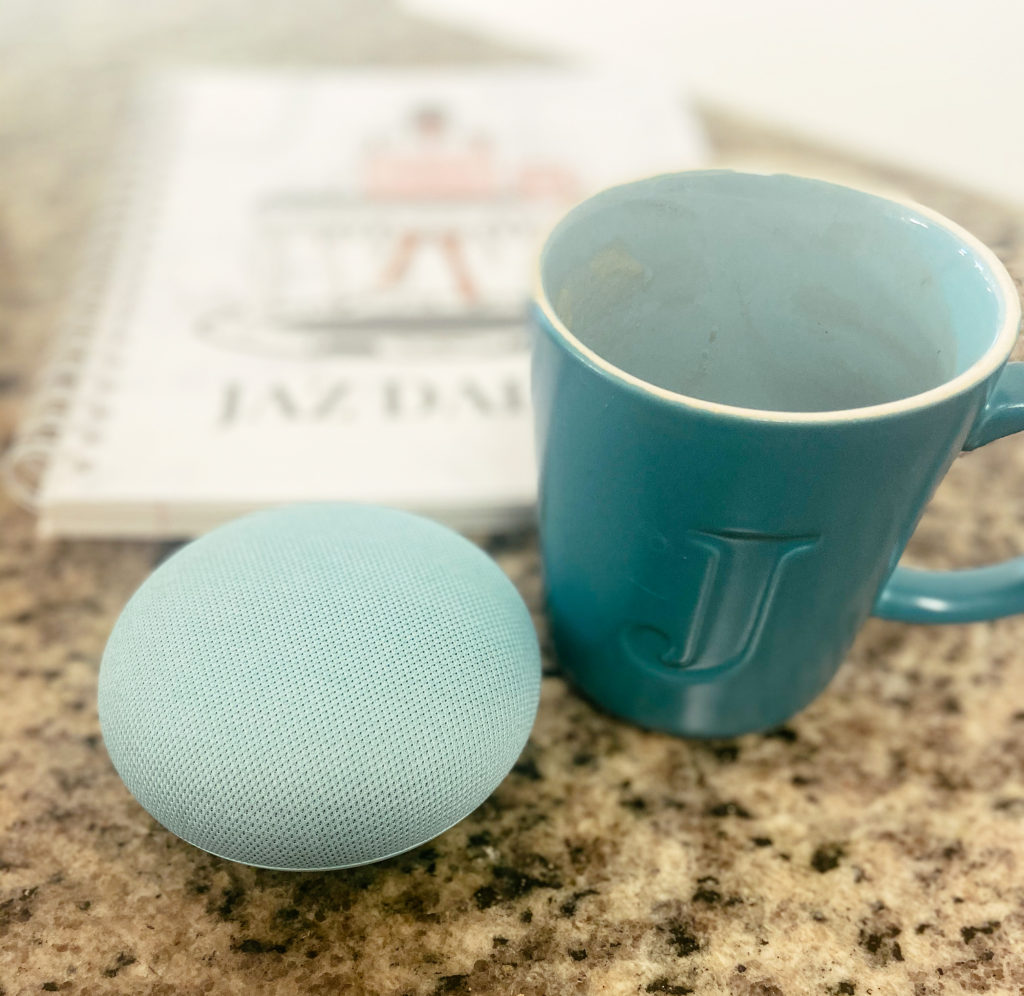 At the end of October, I got an email from Spotify offering me a free Google Home Mini, and I thought it was too good to be true. I figured I'd have to at least pay for shipping, but even that was included! The only requirement was that I had to link my Spotify account to it, which was a no-brainer to me since I would be adding it to my arsenal of Bluetooth/wireless speakers in my apartment. And apparently this wasn't the first time they'd offered this deal, it was just my first time seeing it. I quickly placed my order and sent the link to everyone I knew with a Spotify premium account and waited patiently for it to arrive.
It took about 3 weeks, but it came in and I was excited…but not excited enough to set it up that night. I don't know if it was everything that was going on in my life at that time, or if I was just content with using my Amazon Echo Dot and Wonderboom speakers at home, but my Google Home Mini sat on one of my nightstands until the end of December. I had a few long weekends during that month and on one of them I decided to go ahead and unbox it and set it up. If you know me, then you know my favorite color is blue so my turquoise mini fit with my home décor perfectly! Set up took just minutes with the Google Home app that I already had on my phone for the Chromecasts I have and I was ready to go. I did a little research on Google to see what all the device could do and one of the first things I did was change the voice of the assistant. I prefer to have a male assistant's voice on my devices so when I get the option to change the voices I do. That's one feature the Echo devices don't currently have, but I have a feeling those will be coming soon.
I'm in the process of making my apartment "smarter", but there were a few other features that I love and use regularly.
Night Routines – This was either the second or third thing I set up on my mini. I can simply say "Hey Google, goodnight" and it will ask me what time I want to be woken up in the morning and I even selected some white noise to put me to sleep. I typically fall asleep with my TV on low or mute (with a sleep timer set), but I've been listening to the sound of rain or thunderstorms recently and I like it. I can even adjust the volume by simply saying "Hey Google, volume on __%"! Game changer!!
Morning Routines – This one kind of ties into my night routine, but it deserves its own feature. My morning alarm isn't too loud or shocking, it's soft and eases me into waking up which is good. Then my mini tells me the weather and starts playing my morning playlist on Spotify. I created one featuring my favorite songs to get me moving and bring a smile to my face. I'll continue to update that playlist but for now it's about 20 songs and the runtime is about how long it takes me to get out of the house in the morning.
Google Calendar Integration – My life is pretty much in Google; my main personal email accounts, blog email, YP email, etc. So it's nice to have it tell me what's on my calendar for that day as I get ready in the morning.
Commute Times – I'm actually starting at a new office today (same company, just a different property), so I will definitely be using this feature to help me adjust my morning routine accordingly. I still work downtown, but I'm further in and have to deal with a little bit more traffic so I'll adjust my Lyft/Uber pickup times accordingly.
Hail A Ride – I can say "Hey Google, book me a Lyft/Uber to work" and since I have both of those addresses saved in my profile it'll do it. Y'all!! That's another game changer! Especially if I don't want to be on my phone all morning.
Mute It – I ended up unplugging my Echo Dot a few times because it would randomly get activated from someone else's voice and scare the crap out of me, but that's not an issue with my Google Mini. It has a knob on the side that I can slide over and mute the mic whenever I don't want it to hear certain conversations. So convenient!
Now I know that having an Amazon Echo Dot and Google Home Mini can sound excessive, but I didn't have to pay for either and I like them both. I keep my Echo Dot in the living room and my Mini in the bedroom and that works for me. Do you have either one of these devices? And if so, what are you using them for?