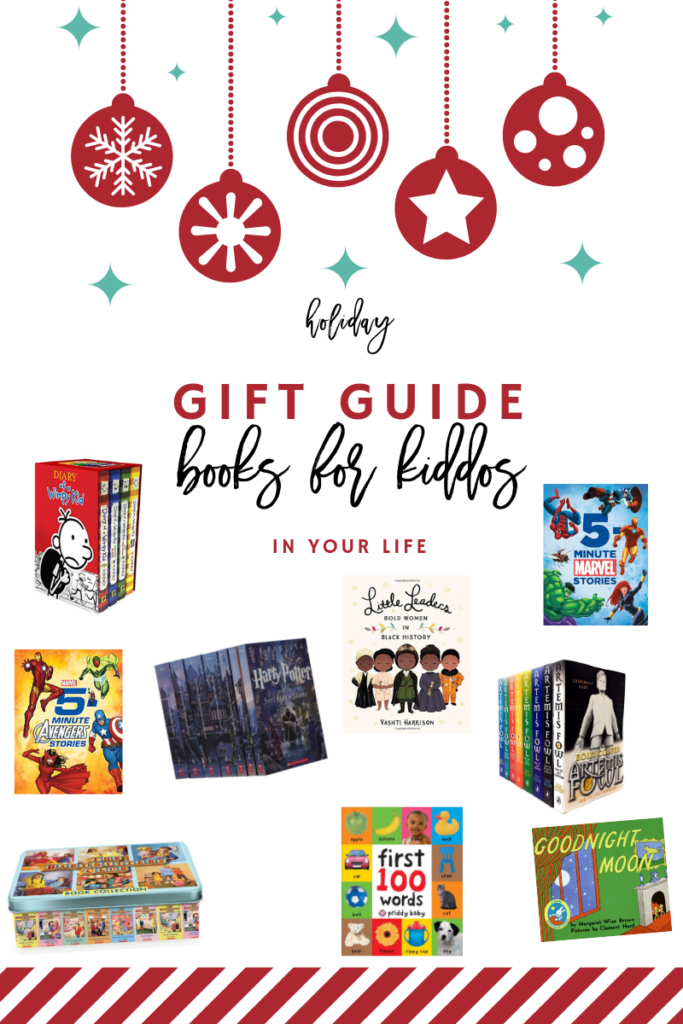 I absolutely LOVE giving books to kids for the holidays. In my opinion, those are the gifts that keep giving because they allow kids to get lost in a world and dream. My mom made sure that our personal libraries were full of great books when we were younger, and once we understood the responsibility of library books we got our library card.  Y'all, I was in heaven!
Some people will wait before building their child's/children's home library, but I think the earlier you start the better. I have friends who do the 24 nights of books, where they'll gift one book each night and read the book at bedtime. I think that's great for younger kiddos, and you can definitely do that with some of the suggestions below.
Artemis Fowl – This series is full of magic, suspense and mystery and is perfect for preteens to early teens! If I'm not mistaken there are 8 books in this collection and there's actually going to be movie for the first one coming to theaters soon! I would suggest getting your preteen the first 3 or so and seeing if they like the series before making the investment in the full collection.
Harry Potter – I know that I did a whole gift guide for Muggles, but no book gift guide would be complete if I didn't mention this series. I would suggest the same thing with this series, buy the first 3 or 4 and make sure that they like the series before you invest in the full collection.
Little Leaders: Bold Women in Black History – I actually got this book for my niece last year and she LOVED it. In fact, she wants to read it to me every time she comes over to my house. The brief history lessons of so many well-known and no-so-well-known women with gorgeous illustrations.
Babysitter's Club – This is a classic series from my childhood! My mom got us quite a few in the series and the movie was one of my favorites growing up as well. I think that this series is one that stands the test of time, and it tackles intense topics in a unique way and is quite diverse!
Diary of a Wimpy Kid – I'm going to be honest. I didn't even know about this series until I saw the first movie, then one of my younger cousins became obsessed with it. The next thing I knew I was buying boxed sets and we haven't looked back. I think this series is great for the 3rd-5th graders in your life!
Marvel 5 Minute Stories – Black Panther. Captain America. The Incredible Hulk. I mean, I could go on, but this one's a no-brainer. Especially with Captain Marvel and Avengers: Endgame dropping next year.
Educational books for babies – It's never too early to start fostering a child's love for books and learning. These hard books can take a beating as well as help teach little ones the basics. They make great stocking stuffers and will look great in a growing library.