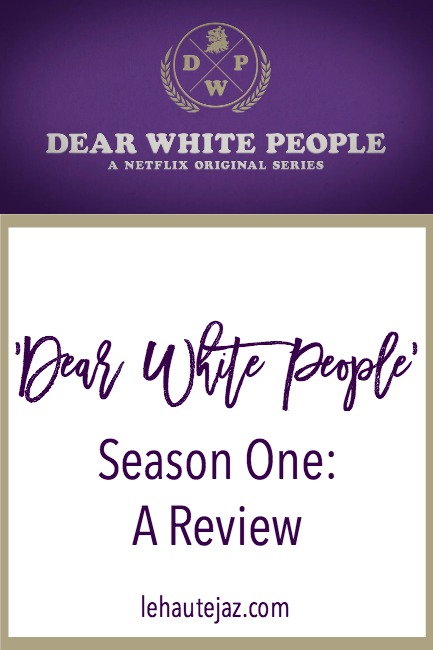 **Warning: Spoilers ahead.  Continue reading if you want, but don't be mad at me if you decide to continue reading without having finished the season and find out something you don't want to know yet.**
Season one of Justin Simien's 'Dear White People' dropped on Netflix on Friday and I couldn't wait to get home for the weekend and binge watch it.  For some reason I thought it was going to be ten hour-long episodes but they clocked in at about 24 minutes each.  I started them Saturday evening and finished them on Sunday, and when I was finished I had so many feelings and comments.
Now if you've been following my blog for a while, you'll know that this isn't my first time talking about 'Dear White People'.  I wrote a gif-heavy post after seeing the movie when it was released in theaters in October 2014.  The movie was really good and one that I recommended to so many people.  I had a few questions and concerns about it (not much character development and it kind of ended on a cliff-hanger), but I felt that it was strong enough to stand on it's own.  Well that was until I found out that they were making it a series for Netflix.  I'd hope they'd answer some of my questions and delve more into the characters since they'd have time now, and that we'd find out what happened after the Blackface party.  I don't know if the creator and writers were listening to us, but that's exactly what happened.
The show picked up right where the movie left off, and we got to not only see the fallout of the Blackface part but see it from each different character's point of view.  I have to say that I was really impressed with the cast of the show.  Quite a few of the actors reprised their roles, but we had a bunch of new faces too.  Sam, Lionel, Gabe, Dean Fairbanks and Coco were played by new actors and we were introduced to Joelle.  The original movie was centered around Sam, but we got to see not only see each of the other character's backstories and see how they were affected by the recent events happening on campus and in their lives.
I can't remember if it was revealed in the movie that it was Sam who sent out the invites for Pastiche's Blackface party or not, but that was something Lionel discovered early in this season and the fallout of that was the base of this season.  In fact, it was kind of light compared to what else happened.  This season dealt with assimilation for survival (Coco, Troy and Reggie…to a point), unrequited love (Reggie, Joelle and Lionel), self-discovery and acceptance (Lionel), police brutality (Reggie) and of course racism as a whole.  There were some nods to the movie like the theater scene and the walk to campus afterwards where they gave Quentin Tarantino the calling out that he needed.   There was also the scene with Lionel and the would-be threesome with the girl touching his hair without his permission (and for those of you who don't know, that's still not okay).
I want to talk about a few of the recurring themes in the series for a bit.  There was one that affect about half of the main cast directly, but if we're being honest it affects more people than it should.  Assimilation for survival.  Not only did we see a literal transition by Coco's character, but she talked about it numerous times and so did Dean Fairbanks when he was talking to his son Troy.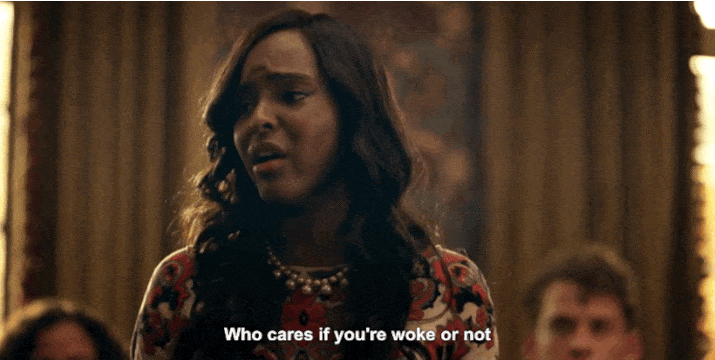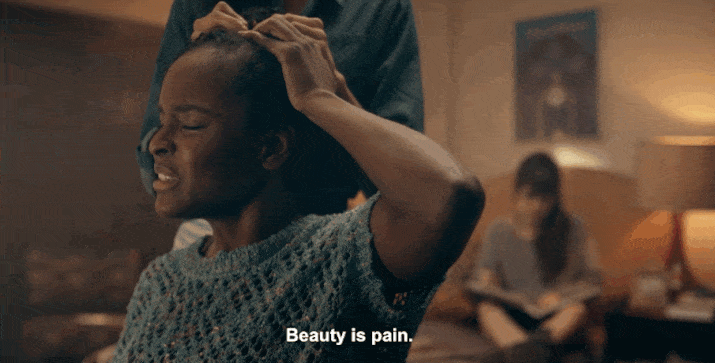 In fact, Reggie said it best when he was at the party.  Yeah it might have been light-hearted during that moment, but that resonated with me.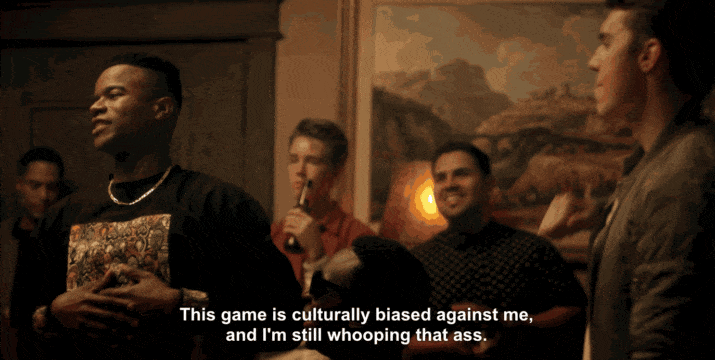 It's one of those "work twice as hard to get half as far" type of situations, and while it sucks it's true for so many people of color.  Speaking of that scene, that episode was the best of the season.  It was perfect blend of light-heartedness with the beginning of the party, but things got real when the police were called.  We as an audience saw how quickly a situation could escalate behind some foolishness, and it allowed the other white students at the school an opportunity to see it first-hand.  For a moment (and a brief one at that) it allowed them to come together as a campus.  In fact, I think that scene and the scene where Dean Fairbanks witnessed his greatest fear, which was his son being carted off in cuffs by the campus police was the most heart-wrenching of the season.  Given today's social climate those are two situations that ring too close comfort and we could see that in Dean Fairbanks' eyes as tears were streaming down his face while he yelled "Don't shoot!  That's my son!" to the arresting officers.
Like I said earlier, the season was the perfect mix of heavy and light-heartedness.  We got to see Lionel accept the fact that he's a gay man and even watched as his crush on Troy almost developed into something.  We watched as Sam was pulled back and forth between the "millennial on paper" Gabe and Reggie.  We watched as Troy finally found his voice and stood up to his father, even if it was through Lionel's article.   We laughed at the nods to 'Scandal' and Iyanla with 'Defamation' and 'Dereca'.  Y'all, those 'Defamation' comments had me rolling because I'm sure I've said something like them while watching 'Scandal'.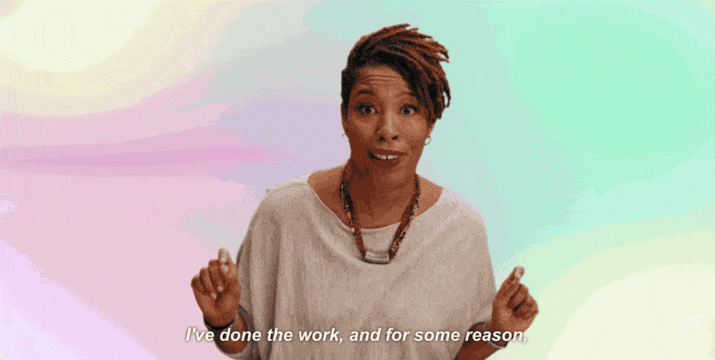 Oh and you can't talk about pop culture without a Drake reference.  That joke that Joelle made had me howling!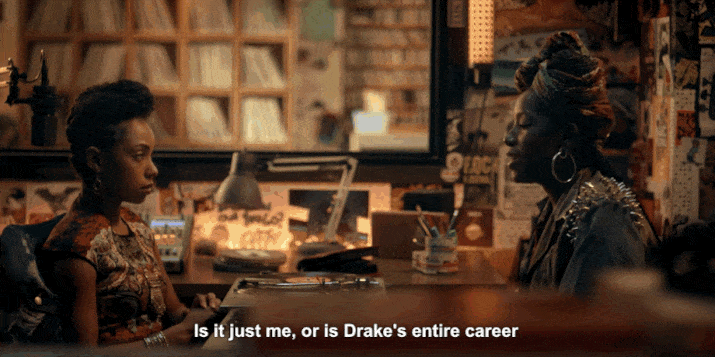 I don't want to spoil too much; I really want y'all to watch the entire season.  So head over to Netflix and watch all ten episodes then comment below or tweet me your thoughts.  Oh!  The soundtrack is already available.  Check it out on Spotify below.