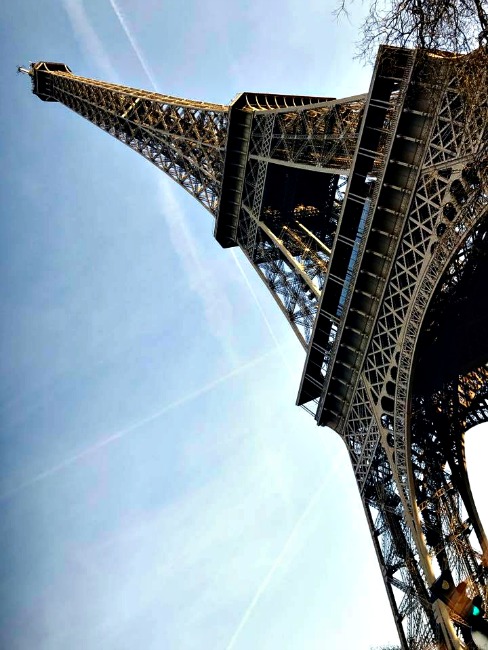 This post is long overdue, but I wanted to share some highlights of my Parisian adventure.  I had to race through IAH airport when my gate got changed at the last minute, but on the upside I ran into a high school classmate.  I hadn't seen him since we graduated and it was nice to catch up with him and his wife for a bit.
Being my father's child I still made it to my gate a full hour before I was due to board (also thanks to TSA Pre-Check that I won from Orbitz) so I was able to take advantage of an opportunity that was both beneficial to the airline and myself by giving up my seat on my first flight.  My reward for volunteering was bump up to Economy Plus on both flights as well as a $250 travel voucher for future United flights.  I took it as a win, especially since the flight they moved me to ended up leaving before my original flight due to maintenance issues.  After having my carry-on luggage gate checked to Paris I was able to board make my connecting flight in EWR and board my flight to Paris with no problems.
My flight to Paris was shorter than I expected so I didn't get much sleep on it.  I thought it was going to be 8 hours long and it ended up only being 6.5 so I watched a few movies and napped for like an hour or so before we were on the ground at CDG.  My overnight flight meant that I was landing at 7AM local time and had to deal with their customs line.  It was early so there weren't that many agents working, which meant that I didn't leave the airport with my luggage until close to 9AM.  I picked up an unlimited transit pass and made my way to the train station to catch it to the Gard du Nord station.  I thank God everyday for T-Mobile's international plan because I was able to use Google Maps, Waze and Google Translate the entire time I was abroad.  I was able to check in on Snapchat and Facebook and both also served as an online travel diary of sorts too.
I'd decided to stay at Vintage Hostel in Paris after reading good reviews on Hostel World and Trip Advisor, but I couldn't check in until after 4PM so I dropped my things off and left them in the luggage closet.  From there I hit the ground running.  I changed into my bean boots and headed over to the Louvre to start my Parisian adventure.  I hadn't eaten much on my flights so I stopped in to Le Palais Royal Café for a bite.  That's when I got my first experience of European bathrooms.  It felt like just about every public restroom I went to while I was there was below the general area and was not ADA compliant.  I don't know if it was the project management side of me that made these comments when I met up with friends, but they definitely laughed when I said it.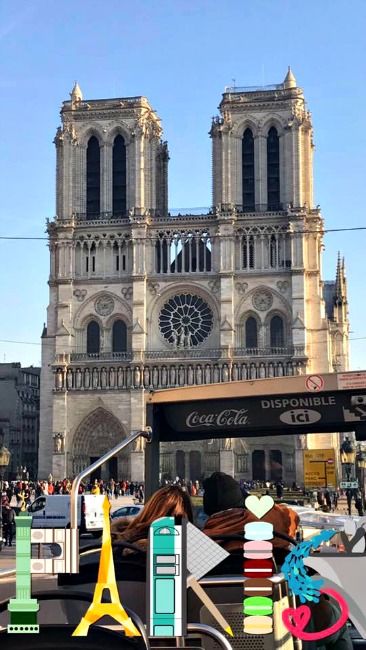 The Louvre was massive!  I explored it for what felt like hours and still didn't even get to see the Mona Lisa.  I was too caught up in various sculpture exhibits as well as the historical exhibits about the Louvre itself.  I even got to see the glass structure that was a prominent feature in the book turned movie 'The Da Vinci Code'!  After the Louvre I decided that I wouldn't be able to see all of the monuments I had on my list by foot alone so I hopped on one of those 'hop on/hop off' buses and did just that.  I saw the Arc d'Triumph, Champ d'Elysee, Eiffel Tower, Pont des Arts Bridge, the outside of Moulin Rouge (because I wasn't able to score tickets for that night's show) and the National Museum of Modern Age.  I mostly snapped pictures of the monuments instead of selfies with them for two reasons, one I didn't have on makeup that first day and didn't want a bunch of pictures of me not looking my best, oh and I'd left my gloves back at the hostel and my hands were freezing so I'd wanted to keep them in my coat pocket as much as possible.  It was amazing getting to walk along these streets and see some buildings that have been around way longer than I've been alive.  So much history in such a gorgeous city! I grabbed dinner at a restaurant close to my hostel and enjoyed the most delicious skirt steak, potatoes and wine, and the company of some fellow Americans at the table next to me.  My meal came with a dessert, but my eyes were too big for my stomach, so I ended up sending my dessert to a woman who I saw dining by herself as well.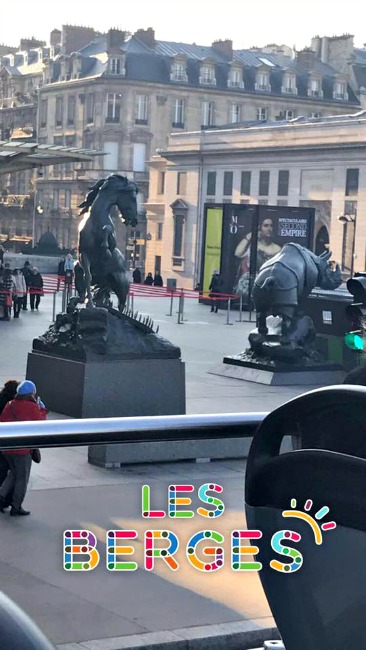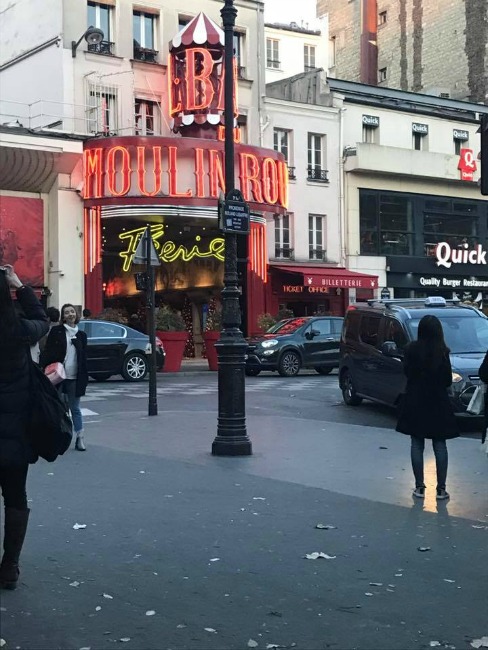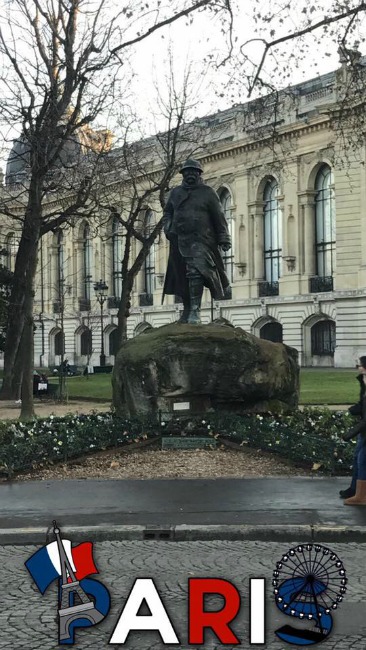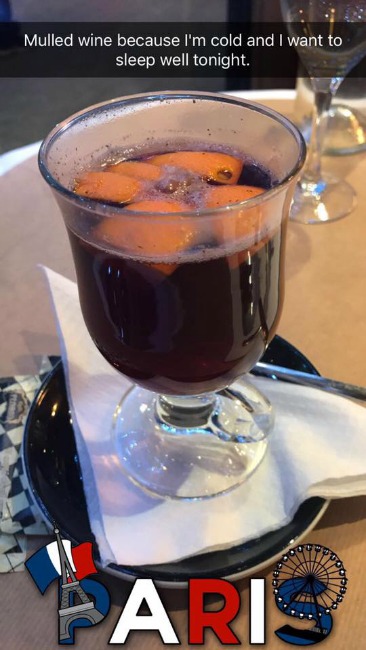 After a long day traipsing around the city I was ready for a shower and a good night's rest so I made my way back to the hostel and checked into my room.  Being that it was my first time in a hostel I wanted to ease my way into it by booking a single room.  Well that room looked and felt like a hotel room.  I had a full sized bed, a full closet with a blogger mirror, a desk, flat screen TV, patio with eating area and a full bathroom!  I even noticed a sign in the restroom that stated that they were looking for bloggers to talk about their experience so I made my way downstairs to speak with the front desk receptionist.  We chatted for a bit and she even upgraded my second reservation to one of their sister properties.  That night I got some much needed rest before I left for my London adventures and returned back to Paris on Sunday afternoon.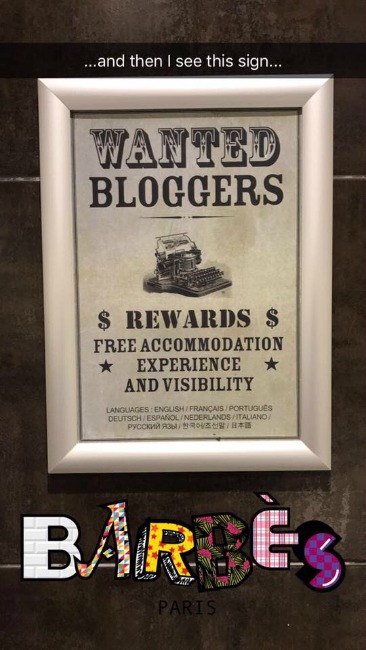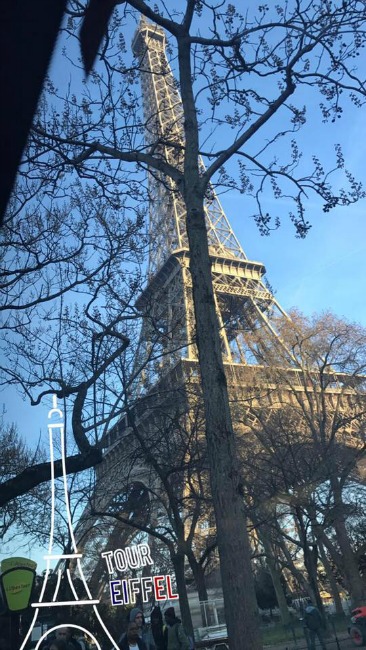 My train back to Paris got in a bit later than expected so I didn't have much time to do anything other than checking into my hotel, grabbing some medicine from a local pharmacy where I found out that Sudafed is the same in French and English. It felt like a cold was coming on so I stopped at the pharmacy before dinner for some Actifed and Rhume (Sudafed and nasal spray). That pharmacist had me laughing when he was giving me instructions for the medicine. He was like "You want to breathe? Okay, listen to me."  Then I grabbed pizza at a local pizzeria and made my way back to my hotel.  Like I said earlier, Vintage upgraded my to one of their sister properties so I was able to score a room at Le Rocroy Hotel for a great rate.  I paid $55 USD for a suite that was a regular 380euros!  I have to say that I liked my accommodations in Paris far more than I liked my London ones, and I wouldn't hesitate to book them again for my next visit.
Overall I had a blast in Paris and would love to go back again when I have more time to explore the city.  Have any of y'all been to the city of love?  And if so, did you enjoy yourself?  Comment below or tweet me and let me know!
Oh! You still have two chances to win $3,000 worth of diamonds, so if you have entered the contest you can do so here.  Take them on your next Parisian adventure!