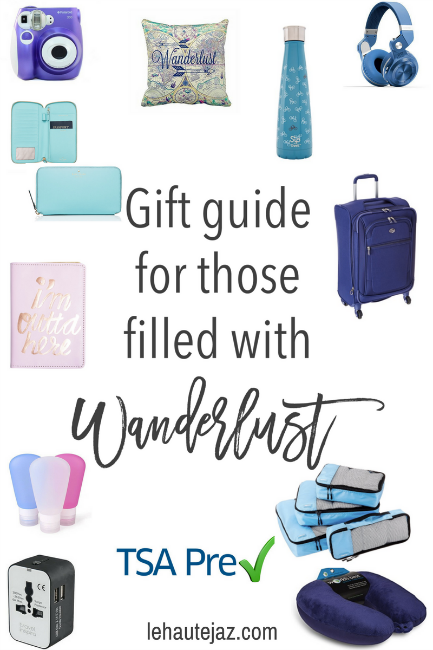 I'm a week out from my European vacation so I figured now would be the best time to share my gift guide for the wanderlusts in your lives.  I can personally vouch for 90% of the items on this list because I own them, but all of these would make great stocking stuffers or even main gifts for the world travelers in your life.
Travel wallet – Everything in one place and it's cute to boot.
Throw pillow – For the times when you're home and planning your next trip.
Passport holder – The last thing you want to do on a group vacation is spend time flipping through a pile of passports trying to find yours. This holder will help yours stand out whether it's in your carry-on or in a drawer at home.
TSA Pre-Check – I'm not sure how you would actually go about gifting this one unless you give someone a gift card, but it's totally worth the $85! Plus it's one of those gifts that keeps on giving; you'll get the benefit of skipping the regular line if they book your flights for you.
Silicone travel bottles – These are soft, have wide openings and are the perfect size for your carry-on liquids. What more could you ask for?
Carry-on suitcase – I've had this suitcase for almost two years and I love it!  It's the perfect carry on size and it can hold so much!  It expands and can hold so much, plus the four wheels make getting through airports so much easier.  Plus it's durable enough for me to sit on when there are no available seats in said airports.
Packing cubes – I'm not sure how I even functioned without these before. I did a trial run this past weekend and was able to get all of my heavy stuff in half the carry-on with just 2 cubes!
Polaroid camera – This is for those moments when your DSLR and phone just won't suffice.  Sometimes you need prints immediately and this is perfect for that.
Wireless headphones – This is another purchase I made recently that had me asking myself why I hadn't done it earlier.  I initially bought them because of the convenience with my iPhone 7, but I totally see myself using them more and more for my travels. I can sync them to my iPad to watch movies in flight and I won't have to worry about cords getting tangled up.
Travel pillow – No one wants to wake up with a crick in their neck after a long flight.  I feel like this should be at the top of everyone's list.
Travel adapter – We have to have a way to keep our gadgets charged and this adapter is perfect for that. It packs well since the all of the plugs are tucked in their own slots; you can just throw it in your carry on and go!
Insulated water bottle – Whether you're filling it up after you pass security or you're using it to stay hydrated as you walk the streets in a new town these are perfect.
Are any of these on y'alls list this year?  If not, you should consider adding them or getting them for your wanderlusting loved ones.